The Tattoo Studio in Chester
Click the images to take a closer look at the tattoo studio!
---
Minerva Lodge Tattoo club is a high quality custom tattoo studio in Chester with talented tattoo artists that cater for all tattoo styles. The MLTC tattoo studio is owned and run by a group of multi award winning artists, headed up by well renowned tattoo artist Jo Talbot. Collectively the Minerva Lodge Tattoo Club team have over 30 years experience working in the tattoo industry.
Whether you are a seasoned tattoo collector or are someone who is dabbling with the idea of having your first tattoo, we are are here to help, answer any questions and talk you through the process. One of our experienced tattoo artists will take you through the process from your ideas, designs and the tattooing through to the aftercare. Alongside our resident tattoo artists, Minerva Lodge Tattoo Club also host regular guest spots with renowned international tattoo artists.
Contact and Opening Times
---
Address – 19A Upper Northgate Street, Chester, CH1 4EE
Email – info@minervalodgetattooclub.com
Phone – 01244 630505
Opening Times:
Monday – Closed
Tuesday – Saturday – 09:00 – 17:45
Sunday – Closed 
---
Jo has a strong background in art always painting whenever she has spare time. Oil portraits are her favourite, but she has much love for all sorts of art especially graffiti.
Jo really enjoys a challenge and is always working hard to improve her artwork whatever the medium and pushing to take it to the next level.
Jo has been a regular on the national and international tattoo convention circuit.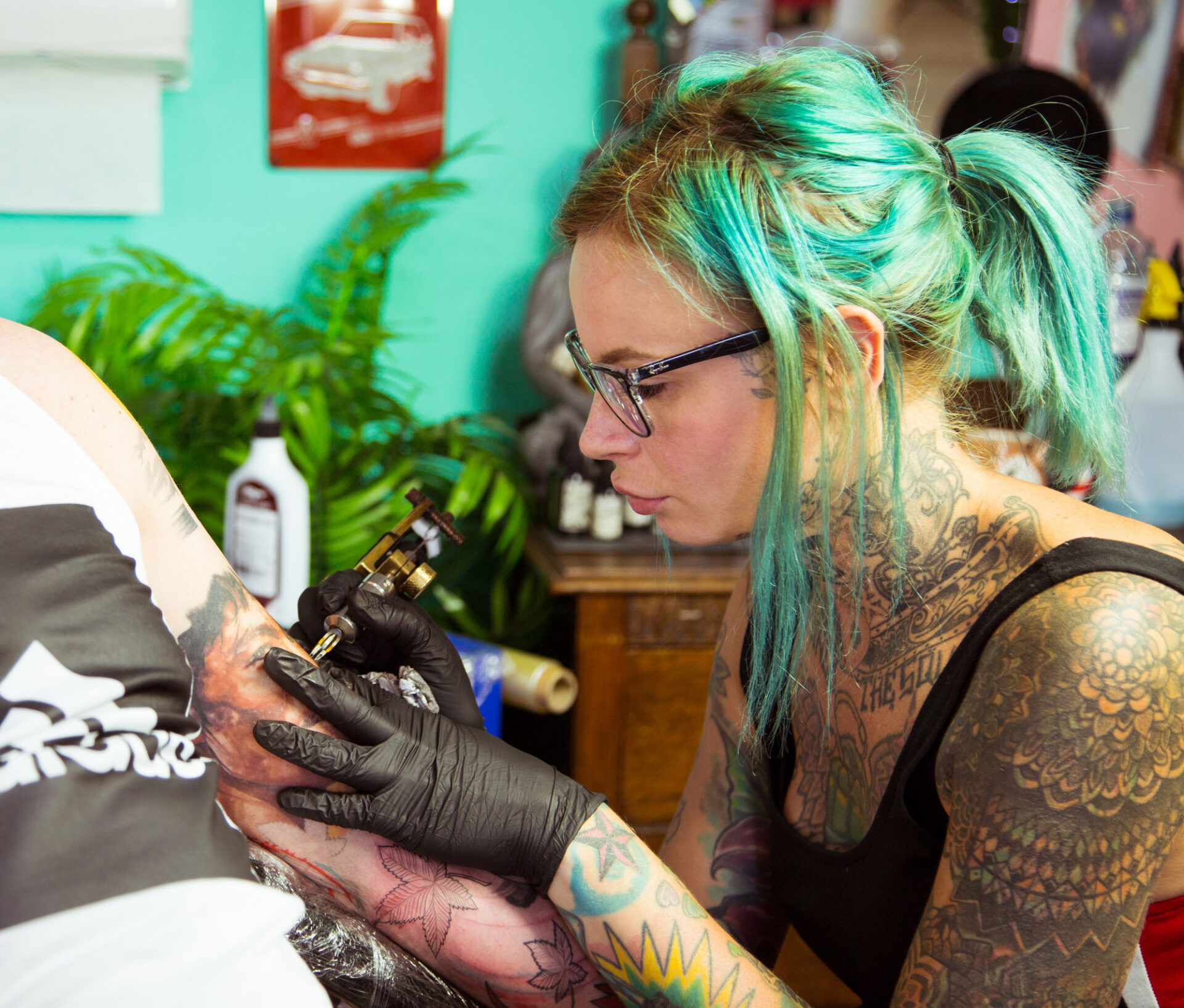 Bex's style of tattooing comes from her love of gaming, comic books and animation. In 2011 she started her tattoo apprenticeship after graduating from university with a master's degree in video game design.
Although she's able to turn her hand to most style of tattooing, she's happiest doing bright colour and bold lines. She loves pin-ups, Japanese and anything nerdy.
Growing up, Cherub was obsessed with anything artistic! She studied art at college & university, and very quickly realised tattooing is where she wanted to be.  She loved the idea of being able to put a piece of artwork on someone's skin and knowing it would last them forever.
She is just coming up to her 8th year of tattooing and is still loving every minute.  Cherub is well known for specialising in abstract watercolour, geometric and dotwork, and a whole host of styles in-between.  If you would like to discuss your own unique design with Cherub, drop by the studio, where she will be sure to greet you with a huge smile and a whole host of ideas!
Col Cooper works in a huge range of styles but loves nothing more than tattooing bold colours, neo traditional, and Japanese! If you would like to discuss your own custom design with Col drop us an email at the studio.
Amethyst Adornments @ MLTC
Shannon Nicola, now known professionally as Amethyst Adornments, is our resident body piercer, with over 7 years' experience in the industry.  Shannon is the first, and only high end, luxury piercing experience Chester has to offer!
Shannon works fully disposable, and uses the best jewellery the industry has to offer, some of which is listed below, as well as attending annual conferences to further push her skills and keep herself up to date, to ensure she's always offering the best service she can.
Amethyst Adornments has it's own website, where you can view terms, conditions and policies, as well as an online store, where she offers worldwide shipping!
UK stockist of the following brands!
BVLA, Body Vision Los Angeles

Anatometal

Industrial Strength

Neometal

Junipurr

Maya
Visit Amethyst Adornments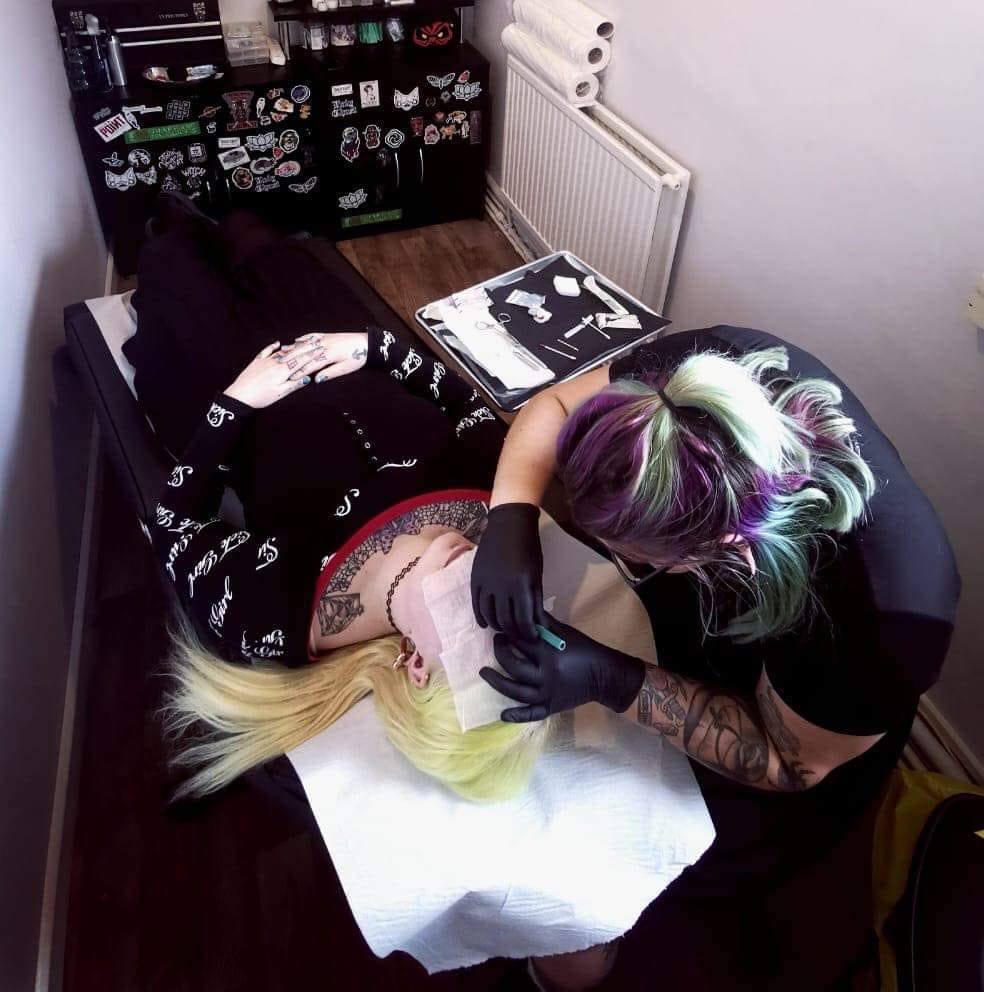 If you would like to discuss your designs or book an appointment please give us a call or drop us an email.  This is the fastest way to get you booked in or arrange a telephone consultation with one of the experienced MLTC team.
Due to covid restrictions we are not able to take any walk in appointments for either consultations or tattoos.
Once you have discussed your design with your tattoo artist, a deposit will be required to book your appointment. For larger tattoo designs we may request a drawing deposit in advance. You can pay your deposit in cash at the studio by appointment, or we can accept an online bank transfer.
If you need to cancel or change your appointment time, please contact the studio giving us at least 1 weeks notice.  Deposits are non-refundable.
Take a look at our insta feed for latest updates & info!